SMC enlarges it's AS speed controller range
SMC adds AS speed controllers with enhanced performance and functionality to range.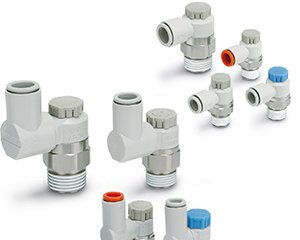 SMC Pneumatics enlarged the range of it's AS speed controllers with new additions that deliver even better performance and functionality. The new universal type, complementing the existing elbow type and new threads, G and Uni, and body material – stainless steel – offer increased safety, time savings, and easy adjustment and locking with their larger rotary handle with push-lock mechanism.
Together with its improved insertion and removal of the tube, and the high position of the one-touch fitting, this product is perfect if you just want to use your fingers in assembly and maintenance. Furthermore, speed controllers in the new AS series have a mechanical stopper that improves robustness and reproducibility of flow rate. Available with gasket seal (M5 thread, 10-32 UNF, Uni), sealing compound (R or NPT) or face seal (G thread), and in a wide range of applicable tubing, from Ø2 to Ø16 metric sizes and from 1/8" to 1/2" inch sizes, the AS speed controllers are ideal for industrial and general machining applications, where the drive speed must be set accurately.
The available housings, nickel-plated or stainless steel, also provide a good appearance and high resistance to corrosion. SMC Pneumatics is the world leading expert in pneumatics and offers over 12,000 basic products with over 700,000 variations. The company has a diverse customer base covering all control and automation industries.
For more information, visit SMC's New Product section at www.smc.eu.
Back to News