Versa Valves Manifold Systems
Versa Valves Actuator Controls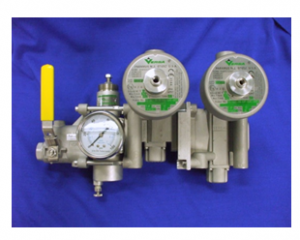 Many oil & gas applications now have a requirement for exotic corrosion resistant tubing and pipe fittings. The Versa Valves VMAP - Versa Modular Air Package - is a great solution for eliminating expensive connections.
In comparing manifold systems to panel mounted assemblies, it shows that the manifolds can offer a more compact and stronger alternative yet with lower cost. The costs involved using back panels and cabinets, tubing and pipe fittings, along with the associated labour costs are reduced when these are replaced with fully assembled and tested valve blocks that are leak-tight and can be fitted directly to the actuator.
In many instances costs can also be reduced where customer specifications have a closing speed faster than the opening speed. Typically, the circuit is sized for the fastest speed that is specified. The use of the Versa VMAP can present an opportunity to save costs and improve profitability.
The VMAP is based on the Versa field proven V-316 series products, and combines all of their components into complete integrated assemblies. Solenoid, manual and air pilot options are available for high and low temperature applications. Hazardous area solenoids which are for ATEX, UL, CSA, IECex and INMETRO approvals for Europe and the Americas, as well as TR-CU approvals for Russia, Belarus, and Kazakhstan are available on all VMAP manifolds.
For further details go to https://tinyurl.com/y8z4u3x8
Back to News