SMC launch a new vacuum pad - ZP3E
SMC bring improvments to their extensive range of vacuum equipment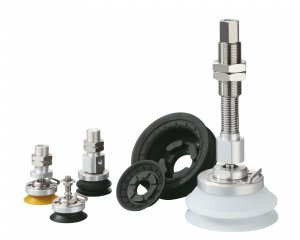 SMC Pneumatics have launched a new vacuum pad series - ZP3E.
The new Z3PE range feature a strong hold and smooth release. The pads feature indentations on the absorption surface that guarantee good contact with the work piece, this ensures stability and a high level of suction even on oily surfaces. The vacuum pads are either flat or bellows shaped to accommodate both level and slanted surfaces and are available in various materials - NBR, silicone rubber, urethane rubber and FKM.
Requiring just one bolt to mount and replace the pad, the overall labour time is greatly reduced. Being easy to disassemble, the ZP3E is also environmentally friendly as the rubber and metal can be separated for recycling.
For competitive pricing on SMC Pneumatics vacuum products contact us now
Back to News