NEW - Versa Dual Speed Control Accessory
Actuator Speed Control for Wet or Dirty Environments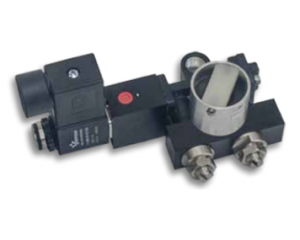 The NEW Dual Speed Control Accessory protects your actuator package from external air contamination while allowing independent adjusting of open and close speeds.
The Dual Speed Control Accessory is a device to control actuator speed in applications where the environment is corrosive from production, plant pollutants or other environmental issues. Common speed controls vent to atmosphere either directly or via a porous bronze filter, allowing the entry of water, corrosive liquids and or small particulates. Versa's NEW NAMUR Dual Speed Control kit prevents the entrance of external air or water into the valve package, extending life and reliability.
An add on accessory available for either Versa's C Series aluminum or C-316 stainless NAMUR valve series. Material of the main plate is an engineered polymer. All fasteners and speed controls are 316 stainless steel for enhanced corrosion protection and product life.
Learn More: Actuator Speed Controls
Back to News