Latching & Manual Reset Valves
Versa Latching and Manual Resets for Solenoid & Pilot Valves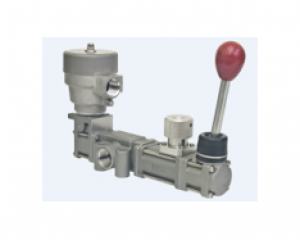 Versa manufacture a complete range of 316 stainless steel and brass solenoid valves and pilot operated valves that can have mechanical or air operated latches and manual resets.
Latching valves are particularly suited to applications where it is desirable or mandatory to manually reset or restart a system.
A typical application could involve the emergency shutdown of automatically monitored process operations. Loss or interruption of the control signal to the valve actuator causes the valve to shift, latch, and shut-down a process step. When the signal is restored the valve remains in the latched position until the operator manually unlatches it and allows the process step to resume. Positive latching in such an application is vitally important since many process operations are sequential and one step must not be started until the one ahead of it has started.
This example is only one of many which can be accommodated through the use of Versa's Latching Valves. A wide range of functional types, port sizes, actuators, and latching arrangements provides the engineer with a complete choice of valving to suit his particular needs.
For more information: https://tinyurl.com/yd9aktfb
Back to News