D-316 Modular Air Package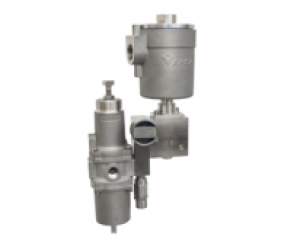 Versa Products have extended their latest range of direct lift solenoid valves, the D-316 series. Their latest innovation is to combine this field proven valve with the established Versa AR series hi-flow air regulator and designate it as the DMAP.
A DMAP system consists of a filter/regulator, gauge, and a 3/2 solenoid operated directional control valve all in one unit. Relief valves and speed controls are offered as options. This 1/4" valve unit is manufactured throughout in 316L stainless steel and fitted with viton seals as standard
The solenoid operator has a 360° rotating solenoid housing and is fully weather protected with integral junction box with IP66 to IP68 ingress protection ratings. An encapsulated Class H (high temperature) solenoid coil is standard
The overall design of the DMAP reduces size and weight while it maximises flow. This makes it one of the smallest 1/4" valve packages available on the market today.
Cost reduction is one of DMAP's key advantages. The systems are easily specified, shortening engineering design time while eliminating the usual fittings and tubing required for a standard valve and regulator system.
For full details click https://tinyurl.com/mhygfbd
Back to News