3/2 NC Electric Quick Exhaust Valves to Control Valve Actuators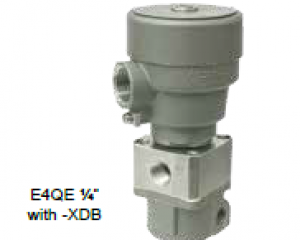 A valve automation centre had a requirement for a 3/2 normally closed hazardous area solenoid valve to control valve actuators. The solenoid valve needed was required to have an extremely high flow on the exhaust side but to be a compact stainless steel assembly. Inlet flow to the actuator was not critical. The customer was frustrated with the two solutions on offer - a large full flow 3-way valve or a small 3-way valve with a large quick exhaust valve piped in separately.
THE SOLUTION
Versa offered the electric quick exhaust valve - an hazardous area approved solenoid operated 3-way valve and a quick exhaust valve mounted together as one unit to offer both functions in one valve.
This approach proved to supply high exhaust flow and acceptable inlet flow while reducing the overall size and mounting complexity.
Back to News