Actuator Controls for Harsh Envronments
'ReBreather' Device for Actuator Controls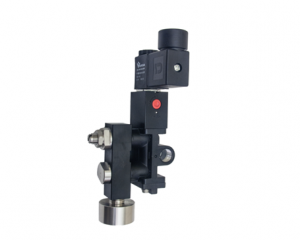 The Versa NAMUR ReBreather is a device used in applications where the environment is corrosive from production, plant pollutants or other environmental issues. These applications need something to protect the actuator spring chambers from sucking in external air/contaminants during the return stroke, extending valve and actuator life and reliability. When fitted to the Versa NAMUR solenoid valve the Versa NAMUR ReBreather kit prevents this from happening by redirecting the clean instrumentation air, thus preventing external dirty air from entering the control system.
In applications where closing speed needs to be adjusted, an optional speed control is offered. The material of the main plate is engineered polymer.
Fasteners and speed controls are 316 stainless steel for enhanced corrosion protection and product life.
Options
The basic plate is supplied with a ¼" npt vent port. Versa offers a vent screen (MFS) for dusty environments, or in areas where moisture may be present, the ReBreather is available with a positive check (DE).
For further details click: https://tinyurl.com/y8pvp5qf
Back to News