316 Stainless Steel NAMUR Valve
Versa Introduce New Direct Lift NAMUR Valve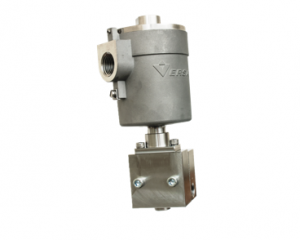 The D-316 NAMUR valve is the newest addition to the Versa range of solenoid valves. The D-316 valve is a direct acting 3 way valve with a balanced poppet design that allows for universal flow which can provide for either normally closed or normally open applications.
The 316 stainless steel valve has 1/4" npt ports with a high Cv flow factor, and can operate with both air and hydraulic media up to a maximum working pressure of 12 bar.
Designed for use with single acting actuators and to prevent corrosive external atmosphere from entering the spring chamber, an internal drilling provides an integral rebreather function.
The solenoid housing rotates 360º and offers a complete selection of electrical connections, area classifications and approvals.
This high performance valve can be mounted in any orientation and has optional features that include latching reset and manual overrides, along with seals for low temperature applications to minus 40ºC
For more details click: https://tinyurl.com/yde4n22l
Back to News